No reset in sight between Washington and Moscow
Comments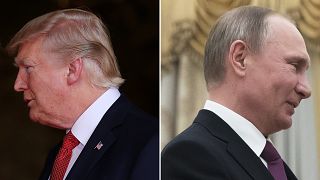 Russo-American relations are at their worst since the Cold War, so just what has gone on between the pair these last few months?
First of all, there is the US election campaign, when Republican contender Donald Trump called Vladimir Putin a "much better leader" than Barack Obama.
Trump has been knocking on the door of Moscow for years trying to tempt the city to allow him to set up shop and skim the city's high-rolling oil and gas billionaires of some of their cash in a luxury hotel-casino-apartment development. The city remained wary of any scheme, but when US finance dried up after Trump's multiple bankruptcies he went abroad for loans, and at least one Russian bank welcomed him with open arms. Trump insisted he knew how the Russians ticked, knew how they did business, and that he would
get on well with Vladimir Putin.
Some analysts started taking about a TrumPutinism doctrine, and a new era of relations between the two nations.
But the Democrat party condemned Russia for using its cyberservices to attack its presidential candidate Hillary Clinton, and for pirating her campaign, breaking into computers.
A declassified report for the US secret service stated that the Russian president ordered an effort to discredit Clinton's campaign and boost Trump's.
Congress is holding an investigation.
On February 14 after weeks of speculation about the contents of his repeated talks with the Russian ambassador, National Security Advisor Mike Flynn resigned.
But the major turning point for Trump appears to have been the Khan Cheikhoun chemical attack in Syria. At least 72 people died, and the American president ordered the first bombardment of the Syrian army.
"There can be no dispute that Syria used banned chemical weapons, violated its obligations under the Chemical Weapons Convention and ignored the urging of the UN Security Council," he said after announcing the unilateral strikes.
America, France, and the UK proposed various UN resolutions against Syria, but each time Moscow opposed its veto in favour of its Syrian ally.
Vladimir Putin went so far as to mock the Americans; up to no good again he claimed, cooking up fake proof of weapons of mass destruction like in Iraq.
"I've said that this U.S. strike reminds me strongly of events in Iraq in 2003, when U.S. representatives in the UN Security Council showed alleged chemical weapons found in Iraq. A military campaign was launched in Iraq after this and it resulted in the destruction of the country, in the growth of the terrorist threat and the emergence of Islamic State on the international arena," insisted Putin.
In such an atmosphere it seems that any Trump – Putin handshake may have to wait.
Indeed in the current climate it is hard to imagine one at all.