Russia denounces US "aggression" in Syria
Comments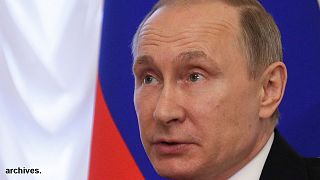 The Kremlin has slammed the US missile strike as an "aggression against a sovereign nation".
This is an act of aggression, on an absolutely made-up pretext

Russian Foreign Minister
A spokesperson for President Vladimir Putin, a staunch ally of the Syrian regime, said it violated the norms of international law and was carried out on a "made-up pretext" in a cynical bid to distract the world from civilian deaths in Iraq.
"It is clear that this strike was well prepared in advance," Russian Foreign Ministry spokesperson Maria Zakharova told reporters.
"It is clear for every expert that Washington took the decision before the events in Idlib. And this is a pretext to show their force."
Russian Foreign Minister Sergei Lavrov said he hoped the US strikes would not irreparably damage relations between Moscow and Washington.
"This is an act of aggression, on an absolutely made-up pretext," Lavrov told a news conference in Tashkent, Uzbekistan.
"It reminds me of the situation in 2003 when the United States and Britain, along with some of their allies, attacked Iraq."
US actions in Syria reminiscent of military intervention in #Iraq - Lavrov https://t.co/BQKsi1rS5t#USStrikesSyriapic.twitter.com/hf0xECHim6

— Sputnik (@SputnikInt) 7 avril 2017
Lavrov said Russia would demand Washington explain why it conducted the strikes.
"I hope this provocation will not lead to irreparable damage (to U.S.-Russian ties)," Lavrov said.
No Russian servicemen were known to have been killed in the US strikes, he added.
As Moscow demanded an emergency meeting of the UN Security Council, there was a very different reaction from London.
British Defence Secretary Sir Michael Fallon said that the UK had been in close contact with the US and fully supported the military strike ordered by President Trump.
"This was a very limited, very appropriate, narrowly focussed action to attack the airfield, the aeroplanes and the equipment that the United States believe was involved in the gas attack to deter the regime from future attacks and hopefully therefore to save lives in future," he said.
Defence Secretary Sir Michael Fallon has welcomed US strikes on a Syrian airfield last night, saying they were 'limited and appropriate'.

— Ministry of Defence (@DefenceHQ) 7 avril 2017
When asked if the strike was the start of a new military campaign, Fallon said: "We don't see last night's strike like that".
For All Views on the Syria conflict, click here
with Reuters