Pope washes prisoners' feet in Holy Week ritual
Comments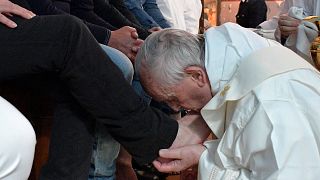 Pope Francis washed and kissed the feet of inmates at a jail housing Mafia turncoats on Thursday, again putting his own stamp on a traditional Holy Week ritual.
It is a gesture to recall what Jesus did
The gesture, towards a dozen inmates, commemorates the Bible's account of Christ's gesture of humility towards his 12 apostles on the night before he died.
Francis said a Mass for the 70 inmates of the fortress prison, at Paliano, 75 km south of Rome. It is known for housing Mafia convicts who need special protection after testifying against the Mob.
"During this ceremony, let's think of God, of Jesus," the Pope said.
"This isn't a folkloric ceremony. It is a gesture to recall what Jesus did."
Pope makes Holy Thursday visit to fortress prison holding ex-mafiosi,washes feet of Muslim man, 3 women https://t.co/jwfyCgMH7o via @Reuterspic.twitter.com/lSzK3q5IWZ

— Philip Pullella (@PhilipPullella) 13 avril 2017
The 12 inmates picked for the ritual included women and a Muslim man converting to Catholicism.
They included 10 Italians, an Albanian and a prisoner from the pope's native Argentina who had written to him.
Two of the 12 are serving life sentences and the others are due to be released between 2019 and 2073.
The pope's predecessors held the Holy Thursday Mass in majestic settings either at the Vatican or a Rome basilica. Francis changed the tradition after he was elected to stress the importance of going out to serve the poor, the sick and the imprisoned.
with Reuters