'Pandamania' grips Dutch animal lovers
Comments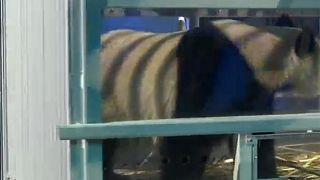 'Pandamania' has gripped the Netherlands
after two arrived at Schipol airport on their way to a specially constructed enclosure at a Dutch zoo.
Children wearing panda hats welcomed them and waved bamboo branches – the panda's staple food.
It's taken 16 years of hard lobbying to obtain the animals from their home in China.
To celebrate the arrival of Xing Ya and Wu Wen, a complex Panspaicthe Ouwehands Zoo in the central town of Rhenen commissioned "Pandasia", a complex of buildings that will house the couple on its ground floor and a Chinese restaurant on the floor above.