Kyiv: giant eggs exhibited in open-air Easter extravaganza
Comments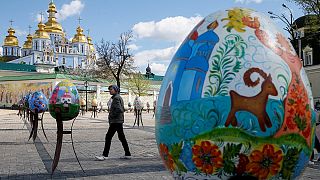 The Ukrainian capital is gearing up for Easter with a huge open-air exhibition across two city centre squares.
Almost 500 hand-decorated eggs are to remain on display until after Easter, which falls this year on the same date in both the Julian and Gregorian calendars.
Olha Malinkina submitted a piece:
"I chose a Beatles song as an idea for my work. Why? Because their songs are about common things: about kindness, love and peace. The peculiarity is the mirror. People can look in it and feel like passengers aboard the Yellow Submarine," she said.
The largest eggs range in height from 70 to 90 centimetres. Contributions have come in from professionals and amateurs alike.
Semen Tarasov and his school friends also had an egg on display.
"Every child in my school put their hands on this egg. It means that the future of our country is in the hands of its children," he said.
The eggs will remain on display in Kyiv until April 23, before being exhibited around Ukraine and further afield.