Borussia Dortmund angry at UEFA after bus bomb attack
Comments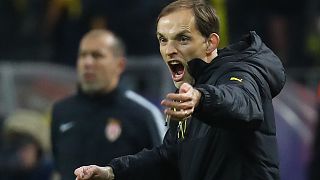 Borussia Dortmund's coach says his football team are upset that they ended up playing against Monaco – a game they lost – only a day after their bus was involved in a bomb attack as they drove to the stadium on Tuesday night.
We have a game in Dortmund. Banner on the Südtribüne reads: "UEFA: Greedy Old Bastards" #bvbasmpic.twitter.com/Xn1ckAfEUd

— Michael Da Silva (@mjdasilva) April 12, 2017
Flying glass from a shattered window broke the wrist of one of their players, Marc Bartra.
"We basically had the feeling that we were being treated as if a beer can had hit our bus, and half an hour later the decision was made that (it would be held) tomorrow at 6.45 p.m. And that was the point of time when we were informed. Then it was very unclear how serious the injury of Marc Bartra was and what was behind this incident, that gives you a feeling of powerlessness," Thomas Tuchel, Borussia Dortmund's coach, told a news conference.
Borussia Dortmund played a game of football today. pic.twitter.com/f95eYYc1UH

— Bleacher Report UK (@br_uk) April 12, 2017
But UEFA, European football's governing body, insists that Borussia Dortmund agreed to the rapid rescheduling of the match, despite being targeted by three home-made bombs.
So far German police have arrested a man described as having "Islamist links."
German authorities are investigating a line of inquiry which suggests that Islamic State, or at least an individual or group who say they support Islamic State, were behind the attack.
Despite the congested calendar in the final months of the football season, Dortmund has said it believed the game could have been shifted to a later date.
Dortmund has said that their player Bartra won't be able to play for several weeks.