360° Aid Zone Philippines: Building back better
Comments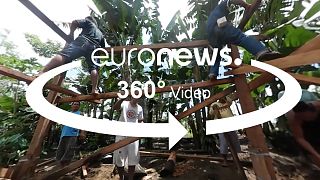 Carpenters in the Philippines are building the future location of the farmers' association in the municipality of Bayabas. Its village of 400 residents is one hour away from Tacloban, the city flattened by typhoon Haiyan in 2013.
Bayabas had most of its buildings destroyed. Seventy of 82 houses have since been rebuilt applying simple, but effective, precautions.
In the first six months following the typhoon, 35 volunteers and carpenters participated in Building back better, a hands-on training course organised by the NGO Accord and financed by the European Civil Protection and Humanitarian Aid Operations.
The result is homes with pillars buried deeper into the ground, with anchors that stabilise the entire structure. Harder wood is used for the foundation and metal bracings bind the pillars and roof. These buildings resisted Typhoon Hagupit, which hit the country one year after Haiyan.
The EU provided 40 million euros in humanitarian response after Haiyan, used in part to finance the construction of over 20,000 shelters in the affected areas.
Nevertheless, more than one million houses were damaged and hundreds of thousands of people in the Philippines, including tens of thousands in Tacloban, continue to live in areas the government has designated as "no dwelling zones".