Philippines: Learning to weather a storm
Comments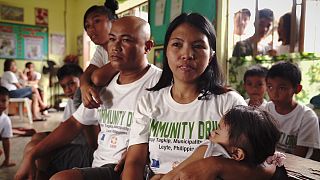 It's eight o'clock in the morning and in the district of Tagkip, Philippines it's time to evacuate. A long warning siren means a cyclone is approaching and residents must leave.
Now, even if the sun is shining we'll believe the warning.

Tagkip, Philippines resident
This time the emergency is not real, but such exercises are vital to help residents understand what they are exposed to and what they need to do in case of emergency.
Jaquelyne gathers documents, clothes and food before heading with her family to the evacuation centre. Because of Typhoon Haiyan her husband lost his job working on a coconut farm. Haiyan destroyed nearly 90% of the business.
The evacuation drill brings back old memories.
Jaquelyn Berino, Tagkip resident:
"Strong winds started to blow, then the children got really scared…"
When Haiyan hit, many people didn't evacuate, thinking the typhoon wasn't going to be that strong or not knowing what to do.
Dante Berino, Tagkip resident:
"Now, even if the sun is shining we'll believe the warning. When Alert 1 is given we will start packing, because we know now that after that we won't have time."
The warning system is structured in a way that residents are given time to prepare, avoiding a last minute rush. The NGOAccord thoroughly educated residents and volunteers so that people know where to go and who is responsible for what.
Sindhy Obias, Accord Director:
"There are six villages composed of around 400 individuals participating in the community drill. We organise the village, the leaders [each] decide their rules in terms of early warning systems, in terms of preparing the evacuation center…"
Monica Pinna, euronews:
"I see there is a medical team, for example."
Sindhy Obias:
"Yes, it's part of organising the whole structure and the system for the community to prepare for a scenario like this."
The Philippines adopted a national disaster management law in 2010, but experts say a lot of it was simply on paper.
Pierre Prakash, from the European Union Humanitarian Office, explained that Haiyan was a wake-up call. Contingency plans at the village level are now better organised and more realistic.
Pierre Prakash, EU Humanitarian Office:
"For disaster risk reduction you need two things: you need community mobilisation, and trainings, but you also need a structure at the national level. So you are working from the community up, and you are also working from the government level top-down to make sure that these linkages exist between the different administrative units: between village, district, province and then governments at the national level. The Philippines is really a model in that regard of having that structure."
Haiyan damaged over one million houses and rebuilding required global assistance. The EU helped to finance over 20,000 new homes.
In the small village of Bayabas the legacy of Haiyan has translated into new building techniques.
Monica Pinna:
"This village was nearly destroyed by Haiyan and rebuilt the following year. The buildings you see may seem like basic, country houses, but in reality they're built following simple but effective rules that make them more resistant against typhoons."
Head carpenter Bernardo Operio is part of a group of 35 who had "Building back better" training by NGOs Accord and CARE, financed by the EU. Since 2014 he's spread his hands-on knowledge amongst colleagues and residents.
Bernardo Operio, carpenter:
"Before, when we built the foundations and the pillars, we didn't put anchors, so during typhoons our houses were easily destroyed. Now the use of these anchors helps prevent a house from shaking, even if winds blow from different directions."
The pole's base is now made of harder wood, joined with softer coconut wood, which is still used for the rest of the pillar.
Homes constructed in this manner resisted Typhoon Hagupit in 2014, which was similar in similar strength to Haiyan.
Inday Macalalag, Bayabas resident:
"There's a big difference between before and after. Before, the houses were made of bamboo and leaves and they didn't have bracings and metal straps that keep the pillars and the roof together, helping the house to be strong."
In spite of the progress, where and how to build remains a challenge, and tens of thousands in Tacloban continue to live in areas the government has designated as "no dwelling zones".
The Philippines became a model in risk reduction after the cyclone Haiyan killed over 6,200 people in 2013.Soon on #aidzone. pic.twitter.com/JpUznC0TNh

— Monica Pinna (@_MonicaPinna) 11 aprile 2017