Video: Madrid's illegal 'tyre graveyard' and its environmental repercussions
Comments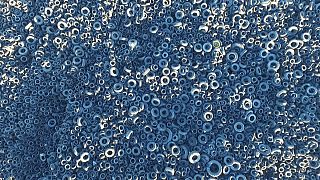 In 2003 a 'tyre graveyard' near Madrid measuring 220,000 square metres was declared illegal.
10 years later multiple fires were started at the site, which contained an estimated 300,000 tonnes of tyres, and efforts to extinguish the blazes caused toxins to filter down into the earth, according to Greenpeace.
Negative environmental repercussions on both the surrounding land and potentially on people in the area have not yet been assessed.
The yard fell on the border of multiple regions which Greenpeace say has resulted in a "lack of interest" in the issue with no administrations accepting responsibility for the problem and no legal or political action being taken up to now.
The environmental organisation claimed that there are four other sites like this dotted across Spain.