German police keep open mind over Dortmund Borussia bus blasts
Comments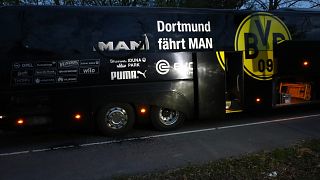 German police remain unclear as to who was behind what they've called a "serious explosives attack" on the team bus of Borussia Dortmund football team.
It was a targeted attack on the Borussia Dortmund team

Dortmund Police Chief
There were three blasts near the vehicle shortly before Tuesday evening's Champions League match against Monaco.
One player was hurt: Marc Bartra later underwent an operation after breaking a bone in his wrist. No other players were injured.
Dortmund Police chief Gregor Lange said his force were on high alert but were keeping an open mind after launching an investigation into the incident.
"We have to say that we have to assume, and we have assumed from the start, that it (the blast in Dortmund) was a targeted attack on the Borussia Dortmund team. That is why we immediately activated the emergency plan to put all available police forces on duty."
State Prosecutor Sandra Luecke added:
"I can say that a letter was found near the blast scene, due to the ongoing investigation at the moment I can't give more information about the content. The authenticity is being investigated."
Supporters who had been preparing to watch the match eventually had to evacuate the stadium when the game was officially postponed for 24 hours.
In a spirit of sporting brotherhood Dortmund lent help to stranded Monaco fans offering them a place to stay through a #bedforawayfans hashtag campaign.
Dear supporters of AS_Monaco_EN</a>! If you need accommodation in Dortmund, please check <a href="https://twitter.com/hashtag/bedforawayfans?src=hash">#bedforawayfans</a>. <a href="https://twitter.com/hashtag/bvbasm?src=hash">#bvbasm</a></p>&mdash; Borussia Dortmund (BVB) April 11, 2017
Earlier fans of the French team had shown solidarity with a chorus of "Dortmund, Dortmund" inside the stadium.
##Bedforawayfans – #Dortmund fans open #Their#Homes to #Monaco#Supportershttps://t.co/eDDfH0JMfSpic.twitter.com/Y6PdnVosUB

— sports live (@SportOnLive) April 12, 2017