Brazil Petrobras probe: judge targets dozens of politicians
Comments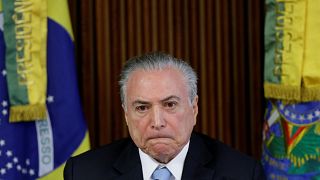 In Brazil, President Michel Temer's government is reeling after a Supreme court judge placed dozens of politicians under formal investigation for bribery.
The move sees almost one third of Temer's cabinet implicated in a major corruption inquiry.
In what reads like a who's who of Brazilian politics
108 people are on the list. It includes 74 politicians. Eight of whom are ministers, three are governors, 24 are senators and 39 are MPs. They deny any wrongdoing.
The names were reportedly given by executives working for the corruption giant Odebrecht. The firm has admitted paying almost a billion euros in bribes to win lucrative deals.
Known as 'Operation Car Wash' the wider investigation centres on Brazil's state oil firm Petrobras.
Companies, including Odebrecht, were offered contracts with Petrobras in exchange for bribes, which are later alleged to have ended up in politicians pockets.