Temer cuts fuel price in bid to end trucker strike
Comments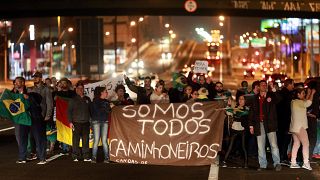 Copyright

REUTERS/Diego Vara

-
Brazilian president Michel Temer has announced emergency measures in a bid to end a truck drivers' strike crippling the country.
"This is no longer a movement by the truckers but a movement by Brazilians."

Truck driver
The almost week-long work stoppage has brought Brazil to a near stand-still. Without significant rail or canal systems to move goods, truckers are key to keeping the country running.
The price of diesel has risen sharply in recent months as world oil prices have increased and the Brazilian real has devalued against the US dollar.
Schools have cancelled classes, flights have been grounded and petrol stations emptied.
Now Temer says the cost of diesel will drop by around 10 percent, with the government subsidising the new rate.
"The first request of the truckers, the price of diesel, will be reduced 0.46 cents [€0.11]  a litre," Temer announced late on Sunday (May 27). "For 60 days the price will not change and, after that – two months from now – the prices will be adjusted every month."
Temer said his government is also working on measures to meet the truckers' other key demands, including reducing tolls and establishing minimum cargo rates.
Temer is deeply unpopular and his threat last week to call in the army to stop the strike only served to galvanize the protests.
"The truth today is that only 10 percent of the people here are truckers, the rest are common people, workers of other sectors," striking truck driver Vincente Reis told the Associated Press. "This is not just a movement by the truckers anymore, but a movement by Brazilians."
As Brazil struggles to recover from a deep recession, public anger has been inflamed by a massive corruption scandal involving key political figures, inflated construction contracts and the state oil company, Petrobras.