Stockholm truck attacker pleads guilty to terrorist acts
Comments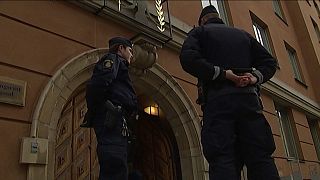 The man accused of crashing a truck into pedestrians in Stockholm has pleaded guilty to terrorist crimes.
Rakhmat Akilov was arrested after four people were killed and 15 injured when a truck rammed a department store.
Swedish prosecutor Hans Ihrman said the investigation is ongoing: "We'll do whatever we can to get all the guilty persons and put them in front of the court. If there is one person or others. That is what we are investigating right now. That is our main purpose."
The #Stockholm TruckAttack suspectConfesses to a "#Terrorist Crime". #RakhmatAkilov from #Uzbekistan. 4 Killed &No Reason. #TheWorld is Sick pic.twitter.com/azc15yGT7k

— The Docterr (@docuterror) April 11, 2017
The 39-year-old from Uzbekistan had his asylum claim in Sweden rejected last year.
Rakhmat Akilov, apprehended for the terror attack in #Stockholm which killed four.
(Aftonbladet)#Swedenattackpic.twitter.com/rZgo2XUx09

— Jan Fredriksson (@Janx53) April 9, 2017
A British national, a Belgian and two Swedes, one an 11-year-old girl, were killed last Friday.
Since then the centre of Stockholm has become a shrine for the victims.