Protests in Hungary after president signs new university law
Comments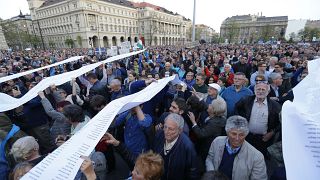 A further, albeit smaller, protest was held in Budapest on Monday night after Hungary's president signed a controversial law which critics say targets foreign universities.
The new rules mean one of the country's most prestigious schools, the Central European University, founded by billionaire George Soros, could be forced to close.
Ahead of more planned protests, one man said: ''The Wednesday rally will be very important, we'll see how many new people turn up. The Sunday protest already attracted a lot of new people. I believe that there's a new political class developing now, especially among the young. I think the younger generation are finally getting active.''
In a statement, President Janos Ader said he didn't believe the new law, which passed through parliament in a matter of days, infringed on academic freedom.
The new rules mean the Central European University will no longer be able to issue diplomas as it is registered in the US.
On Sunday, tens of thousands of protesters took to the streets of the Hungarian capital Budapest to rally against the legislation.