Journalists share on-air bloopers after presenter sacked for live gaffe
Comments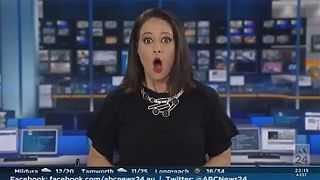 Newsreaders have been sharing their biggest bloopers in solidarity with a presenter sacked for making an on-air gaffe.
Natasha Exelby was caught daydreaming in between reading a bulletin live on air.
The ABC News 24 presenter, who had been staring at her pen, gasped in shock when she realised her mistake, before continuing with the link.
But the clip which has delighted thousands after going viral appeared not to amuse her bosses.
Ridiculous. This was a silly error. Most people found it humorous! Poor Natasha. Lighten up ABC. https://t.co/7dIo4GSde0#PutYourBloopersOut

— Tom Marlow (@TomMarlow_) April 10, 2017
I once accidentally admitted that Santa was a lie on air at 7:50am on breakfast radio #putyourbloopersout

— Sam Blacker (@blackersam) April 10, 2017
On Today show years ago we were talking about past nicknames. Me: "I used to get Dick a lot"
#putyourbloopersout#DickTracy

— tracy grimshaw (@tracygrimshaw) April 11, 2017
I dropped 2 v bad words bungee jumping on live TV & the ABC loved it:

https://t.co/pQcr4vF0S5#putyourbloopersoutpic.twitter.com/F6CAX8aNnl

— Grant Denyer (@grantdenyer) April 10, 2017
I started eating a Tim Tam live on air during rolling coverage of a leadership spill #putyourbloopersout

— Ashleigh Gillon (@ash_gillon) April 10, 2017
The public broadcaster has reportedly banned the casual presenter from presenting live.
The punishment has sparked a petition calling for Ms Exelby's reinstatement.
It has even drawn criticism from the country's opposition leader Bill Shorten who called the decision "ridiculous".
Journalists have also jumped to her defence, launching a campaign to share their own embarrassing live gaffes.
This one's for you NatashaExelby</a> Hope you saw <a href="https://twitter.com/TheTodayShow">thetodayshow we all have your back #putyourpensout#putyourbloopersoutpic.twitter.com/xlbIOCsu1Y

— Shelly Horton ?? (@ShellyHorton1) April 10, 2017
I asked for an interview with someone who has been dead since 1962 #putyourbloopersout

— Sally Rawsthorne (@sallyrawsthorne) April 10, 2017
I danced in my seat in the news booth in between audio grabs, not realising we were live streaming the news bulletin. #putyourbloopersout

— Lisa Barnes (@Barnsy_Lisa) April 10, 2017
I accidentally killed off our PM Malcom Turnbull instead of former PM Malcolm Fraser #PutYourBloopersOut#istandwithnatasha

— Emma Field (Bruer) (@embruer) April 10, 2017
Using the hastag #PutYourBloopersOut presenters showed that "we all have your back".
Among the bloopers to be shared was one radio reporter who said he accidentally revealed on a family morning breakfast show that Santa isn't real.
While another said he swore during a live bungee jump for a morning news programme.
Thank U all for ur generous support. Not my finest hour. Myself and my mesmerising pen honourably salute you!

— Natasha Exelby (@NatashaExelby) April 10, 2017
It's live TV. This is just ridiculous.https://t.co/xy6dp7nKwi

— Bill Shorten (@billshortenmp) April 10, 2017
Presenters also shared tongue-in-cheek pictures of themselves holding a pen and mimicking Ms Exelby's shock in the clip.
The presenter saw the funny side: "Thank U all for ur generous support.
"Not my finest hour. Myself and my mesmerising pen honourably salute you!"
However, it's not the first time the presenter has got in to trouble.
She previously apologised to viewers after laughing her way through a bulletin about fatal riots in Brazil and a building collapse in India.
The Ten news presenter had enjoyed some flirting with an Irish guest who she said "might get to be one lucky little leprechaun" before later getting a "case of the giggles".