Fire sweeps through Dunkirk migrant camp
Comments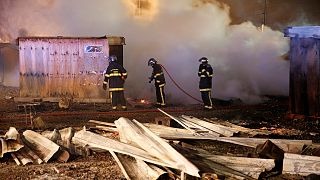 A huge fire has swept through a migrant camp near Dunkirk in northern France. It broke out following scuffles in which six migrants were wounded earlier Monday (April 10) evening. Police said they were forced to intervene.
Some hours later a blaze tore through the wooden huts of the camp which houses between 1,000 and 1500 people, many of them Kurds.
Several of the cabins were burnt down and more than half of the camp was destroyed. At least 165 people were evacuated as the fire took hold. There were no reports of casualties.
The camp at Grande-Synthe, also called the Liniere camp, is on the road between Dunkirk and Calais. Most of the migrants are fleeing violence and hardship in North Africa and the Middle East. Its population has grown recently with a surge of arrivals from Afghanistan.
Last week, migrants from Grande-Synthe had tried to block the nearby highway with tree trunks and branches to try and stop the traffic and clamber onto the trucks and cars in the hope of reaching the United Kingdom, across the Channel.