Malaysia seizes large shipment of rhino horn
Comments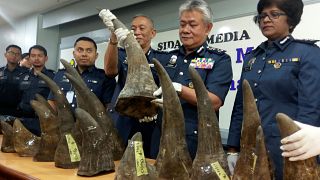 Authorities in Malaysia have seized a large shipment of rhino horns thought to have an estimated black market value of around 3 million euros.
Officials say the 18 horns, weighing more than 50 kilos, were smuggled from Mozambique via Doha on a Qatar Airways flight, before eventually being stopped at Kuala Lumpur airport.
Malaysia is a major transit point for the trade in endangered species.
While the global trade in Rhino horn is banned by a UN convention, it is prized as an ingredient in traditional medicine, notably in China.
It is thought round 29,000 rhinos remain in the wild today compared to the 500,000 at the start of the 20th century.