Egypt: Coptic Church bombs hit Tanta and Alexandria
Comments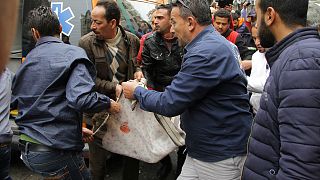 Hours after Sunday's church bombing in Egypt's northern city of Tanta, came another blast in front of a Christian church in Alexandria.
The interior ministry said 18 people were killed and some 40 injured in the bombing at St Mark's Coptic Orthodox Cathedral in the northern coastal city.
In the first explosion in the northern Nile Delta city of Tanta, at least 27 people died and nearly 80 were injured.
The Alexandria blast was captured on video. A man is thought to have detonated his explosive device after being stopped outside the church.
He steps back after apparently being checked at a metal detector, and the screen is then filled with smoke.
#BREAKING: Momnent when suicide bomber blows himself in #Alexandria#Egypt up just inches away from two women pic.twitter.com/Pl2HPQoawU

— Amichai Stein (@AmichaiStein1) April 9, 2017
The dead are said to include three police officers – two men and a woman – who lost their lives when the suicide bomber they prevented from entering the church blew himself up.
Egypt's Coptic Pope, Tawadros II, was in the building at the time having attended mass, but was not harmed.
#Egypt#Alexandria – 2 police officers died protecting people who were praying inside the cathedral. (Pic: jenanmoussa</a>) <a href="https://t.co/30qeLhWGQ2">pic.twitter.com/30qeLhWGQ2</a></p>&mdash; Terror Events (TerrorEvents) April 9, 2017
The news agency Amaq, close to the so-called Islamic State, has said that ISIL has claimed responsiblity for both Sunday's attacks.
In a rare move, Egypt's President Abdel Fattah al-Sisi has ordered troops to be deployed immediately to assist police in securing vital facilities.
Together with the earlier bombing in Tanta, it marks a bloody Palm Sunday for Egypt's Christians.
A religious minority in the country, they have been targeted many times by Islamist militants since 2013 when the army deposed the former Islamist president Mohammad Mursi.
PHOTOGALLERY: Aftermath of bombing attacks on Tanta and Alexandria churches in #Egypthttps://t.co/QT5H3fzK0Rpic.twitter.com/kRzAc0H793

— Ahram Online (@ahramonline) April 9, 2017