Syrian Americans divided over Trump after US missile strikes
Comments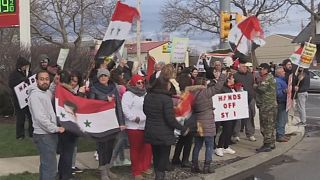 Syrians living in the United States have reacted in different ways to the American missile strikes on a military airbase in their home country.
Members of the Christian Syrian community in Allentown, Pennsylvania, demonstrated in support of President Assad on Friday afternoon, condemning the attack ordered by Donald Trump. They carried Syrian flags and pictures of the Syrian leader.
The city and the surrounding Lehigh County are home to one of the largest Syrian populations in the US.
Many voted for Trump in the 2016 election but those protesting in the streets said they felt betrayed by the president.
"We voted for him (Trump) because he promised that he's not going to be the policeman for the world, he's not going to go against the Syrian army, he's going to make America great again, and he's going to stay within America. What happens in Syria, let's have the Syrian army handle it. Let's support them and be one hand to get rid of ISIS and get rid of the terrorism in the world," said protester Fayez Abboud.
Among Allentown's Syrians, mostly shock over Trump missile strikehttps://t.co/q4cSO2diyi

— The Morning Call (@mcall) April 8, 2017
But for many Muslim Syrians, in Allentown and elsewhere, the strikes were encouraging.
At Anaheim in California there was praise for President Trump over the missile strikes.
The owner of the restaurant "Aleppo's Kitchen", who named it after his wife's home city, said the president was right to launch military action.
"Somebody needs to help Syria. If America didn't help Syria to end the war then things are going to stay exactly as they are. Syrians are dying all over the place and sadly nobody cares about them. But at the same time, we love all Syrians no matter who they are and whatever their sect or religion, and we hope that our President Trump in America will help the Syrians and help solve the problems in Syria," Nidal Hajomar said.
SACSUPPORTSMILITARYSTRIKES ON ASSAD
Read the full release at https://t.co/V6ceVsgPGk

—

SAC

(@sa_council) April 6, 2017
American Syrians disagree over who was responsible for the poison gas attack which prompted the strikes.
Thursday's missile strikes surprised American Syrians as much as anyone.
They managed to anger some who had previously supported Trump – while pleasing others who had opposed the US president.