Syrian refugees support US airstrikes against Assad
Comments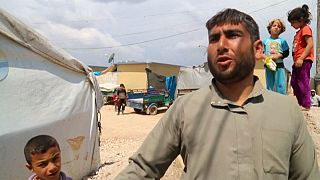 In northern Syria, the reaction among refugees living near the Turkish border has been one of joy following President Trump's move to hit a Syrian airbase.
Many living in the Al Noor Camp called for further airstrikes against the regime, expressing hope the US would intensify its action against President Bashar al-Assad.
''The strikes were great. We want them to strike him (Syrian President Bashar al-Assad) even more. We've been hoping for these strikes for a long time. He hit us with chemical weapons, he shelled men and children. Finally they have decided to take aim at him. They must completely oust him."
Another man said:"We have been refugees for four or five years, living like dogs. We want them to shell him. We want to get rid of him so that people can return to their homes, their families and land. This is great. God willing, they will strike him even more."
The reaction in the capital Damascus, however, was entirely different with some branding the US move an act of aggression.
"This American aggression on a military base is not justified and the accusation that the Syrian government is behind the chemical attacks in Idlib is still not proven yet. No investigation committee has confirmed it,'' one man said.
President Assad's office has also condemned the US airstrikes.
It said the move revealed America's short-sightedness and political and military blindness to reality.