Serbia sees sixth day of anti-corruption protests
Comments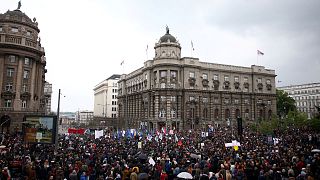 A sixth day of anti-corruption rallies has taken place in Serbia following Alexander Vucic's overwhelming win in the presidential election.
The current prime minister took 55 percent of the ballot. However, these protesters in Belgrade claim a media blackout
meant there was limited access to important information in the run-up to the vote.
"The people voted like this because nobody had access to the media. All television stations had restrictions, so how could anybody be informed about anything?" one protester demanded.
"I see this (protest) as showing the middle finger to the government for the first time. It acts as if it's untouchable," another added.
Thousands have been gathering in front of the National Assembly building on a daily basis, accusing Vucic of being an autocrat and his Serbian Progressive Party of corruption and of orchestrating a fraudulent election.