Third day of protests in Serbia against Vucic victory
Comments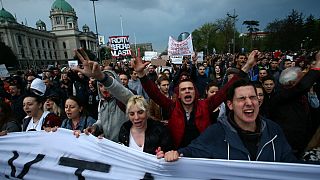 In Serbia's capital Belgrade, thousands took to the streets on Wednesday for the third day in a row, to protest against the overwhelming victory of Conservative Prime Minister Aleksandar Vucic in last weekend's presidential election.
The demonstrators, mainly students, gathered in front of the parliament, blowing whistles and chanting "Vucic, you stole the election" and "End the dictatorship".
"There's no democracy in this country any more. I think something needs to change and I'm here to voice my discontent with the current situation," said resident Mihajlo Saranovic.
One group of students called on social media for the election commission, the media regulator and top editors of the state RTS TV to be dismissed for allegedly failing to facilitate a free and fair vote.
The government says the rallies are the work of political opponents.
According to the state election commission's preliminary data, Vucic, 47, won in the first round on Sunday with 55.02 percent of votes.Sasa Jankovic, a former human rights advocate, came second, with only 16.36 percent, while Luka Maksimovic, a student, came third with 9.43 percent.
Belgrade: Demonstrators calling "We want on air!" in front of the public broadcaster RTS. Third day of protests in Serbia. dwnews</a> <a href="https://t.co/m9xF79oGuf">pic.twitter.com/m9xF79oGuf</a></p>— DW (Srpski) (DW_Srpski) April 5, 2017