Embattled House Intel chairman, close to Trump, steps aside from Russia probe
Comments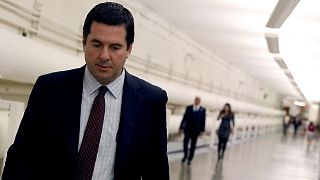 Devin Nunes, the head of a congressional probe into alleged Russian meddling in the US presidential election, said on Thursday he would temporarily step aside to face an ethics inquiry.
The Republican House intelligence Committee chairman denies claims that he mishandled classified information to help President Donald Trump in the probe. He described the charges as "entirely false and politically motivated," and said he was stepping aside to fight all the allegations.
Republican Mike Conaway will lead the probe while Nunes faces questions over his own links to Trump, which Democrats have criticised as too close for comfort for this role. While Conaway was a strong supporter of Trump during the 2016 campaign, the Texas representative was not a member of Trump's transition team, unlike Nunes.
Adam Schiff, Nunes' Democratic counterpart on the House of Intelligence Committee, said he was sure it was a difficult decision for him but said it was "in the best interest of the investigation" and will allow the panel to "have a fresh start moving forward."
The investigation has so far has been paralyzed by partisan quarreling. It's one of several in Congress examining whether Russia tried to influence the election in Trump's favor, which Moscow denies.
Democrats criticised Nunes for his handling of the Russia investigation after he received information at the White House, held a news conference and briefed Trump on it – all before sharing it with other members of his committee.
Trump sparked a controversy in early March when he tweeted, without giving evidence, that Obama had wiretapped him as he competed with Democrat Hillary Clinton in the 2016 presidential race. On March 22, Nunes held a news conference saying an unidentified source had shown him intelligence reports containing "unmasked" names of Trump associates incidentally caught up in routine foreign surveillance.
Critics argued Nunes had disclosed classified information during that press conference in a bid to provide cover to Trump's wiretapping claim and to distract from the wider Russia investigation.
Breaking News: Devin Nunes will step aside from an inquiry on Trump aides' ties to Russia https://t.co/6IAmGX2yZj

— The New York Times (@nytimes) April 6, 2017
With Reuters