Seven arrested as part of St Petersburg bombing probe
Comments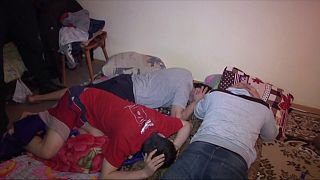 Seven people have been arrested by police investigating the deadly metro bomb attack in St Petersburg.
However, authorities say the men of Central Asian origin are not accused of being directly linked to the bombing, but they are being held on suspicion of recruiting for radical Islamist groups.
Witnesses say the suspected Kyrgyz-born suicide bomber moved into an apartment in the city just a month ago.
A neighbour said: "I can't say anything special because he was a quiet, calm neighbour. He did not cause any disturbance.
"He recently moved in. We seen him only a couple of times – a civilised man, always said hello. He was not seen or heard, there was no noise."
The apartment was raided and items taken away after Monday's attack which left 14 people dead, including the bomber, and injured about 50 others.
The 22-year-old suspect Akbarzhon Jalilov was born in Kyrgyzstan but held a Russian passport.
As investigations continue into the attack, remembrance services have been held for some of the victims