Gambian migrants return home after Libyan prison ordeal
Comments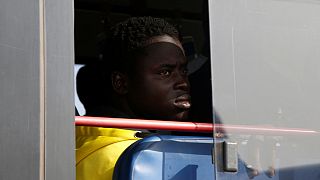 A large group of Gambian migrants has arrived home after a long ordeal trekking across the Sahara desert and then jailed in Libya.
The International Organisation of Migration and the Gambian government helped to win the release of some 170 people.
Mostly men in their 20s, the migrants were hoping to reach Europe.
One of the men, Faramou Keita, told reporters: "They (in Libya) shoot people in the leg, shoot people in the head, everywhere. They treat you like you're zero, like a dog. They value a dog more than a black.
"There are almost twenty nine prisons there, everywhere you go you meet black people. You meet only black in those prisons, beaten every day, no food, everyday they give you some food only once."
Another man, Moulou Badjie, said: "Tonight I will be celebrating, thank God, as some of my friends lost their lives in front of me, some of my friends were wounded, they were shot. So as for me, I have nothing, only beaten, so the pain now is cured."
What to do about the flow of migrants heading across the Mediterranean from Libya, and the appalling conditions of detention there, is a complex issue for governments and international organisations.