16-year-old migrant survives sinking in which 146 are feared drowned
Comments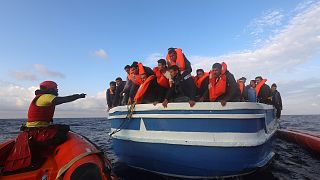 More than 400 migrants – mainly from the African continent – were rescued by aid agencies after being found floating in a wooden boat off the coast of Libya on Wednesday.
What happened?
The alarm was raised in the early hours of the morning. A 17-metre wooden boat carrying migrants was reportedly drifting off the Libyan coast.
On board were migrants from:
Morocco
Algeria
Libya
The Gambia
Bangladesh
16 women and two children were also on board. The rescue operation took five hours.
Why did it take so long?
Because the sea was very rough at the time. Rescuers said the migrants would be taken to Sicily.
Is this the only rescue this week?
No. Rescuers picked up a 16-year-old Gambian boy on Tuesday. He was clinging onto a piece of debris and told aid workers he was the sole survivor of a rubber boat which sank with 146 other people on board.
#BREAKING 146 migrants fearedmissingafterboat capsizesin Med: UN agency

—

AFP

news agency(@AFP) 29 mars 2017

"He was very tired when they found him. He's resting now, so we will have more details later," said International Organisation for Migration (IOM) spokesman Flavio di Giacomo in Rome.
How many have been picked up so far?
The Italian Coastguard says more than 1,100 migrants have been picked up at sea in the last two days. One body has been recovered.
The IOM says nearly 600 migrants have died trying to reach Italy from North Africa this year so far. Migrant arrivals in Italy are reportedly up 50% this year on the same period last year.
READ:more details from the IOMhere