Colombia begins to bury its dead
Comments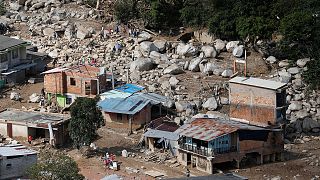 Colombia is beginning to bury its dead as rescuers continue to search for victims of the weekend's flooding and landslides.
Walls of mud and debris engulfed parts of the city of Mocoa in the south west of the country when rivers burst their banks.
Bodies are still being recovered but with no electricity the race is on to identify those who have perished and to bury them as quickly as possible.
The death toll has now risen to at least 273 and that is expected to rise. Around forty of the victims are children.
Colombia flood toll hits 273 as rivers recede, reveal more victims among missing https://t.co/nBbrVMvbeTpic.twitter.com/aIfJQeO6cr

— The Japan Times (@japantimes) April 4, 2017
Due to fears of disease and infection the government has begun a vaccination programme.
Colombia's president has declared an "economic, social and ecological emergency" in the region, although 50 tons of emergency humanitarian assistance is said to be on its way.
Climate change had been blamed for the disaster – Mocoa received one third of its usual monthly rainfall in just one night – others blame deforestation meaning there were no trees to prevent water washing down bare slopes.