St Petersburg bomb unlikely to damage Putin's image
Comments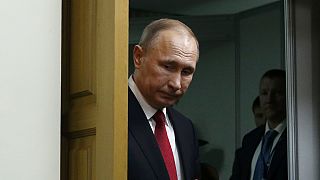 The head of the internal policy programme at the Carnegie Moscow Center Andrey Kolesnikov has some trenchant opinions about the St. Petersburg bombing.
He spoke to euronews shortly after the subway attack.
Galina Polonskaya, euronews:
"Is there a link between the first day of Putin's visit and the explosion in the St Petersburg metro?"
Andrey Kolesnikov:
"I don't think that terrorists are following the President's schedule that much to dedicate any terror attack to his visit. This is of course just a suggestion, but I think that would be too sophisticated of them.
euronews:
"Why did it happen exactly now, at this moment?"
Kolesnikov:
"Why did terror attacks in Nice, Brussels or Munich happen when they happened? Why not any other day? That is terrorists' logic, or rather lack of it. I don't think that terrorists in St Petersburg are somehow smarter or more sophisticated than those in Brussels or Paris. They all have their own logic, but I don't think it has a direct link to political events."
euronews:
"We know that the last explosions in Russia took place in 2013. And what happened today looks like a very well-planned operation. What do you think? Is there a new tendency or a different situation?"
Kolesnikov:
"It looks like the situation hasn't changed, just this recent calm situation has been deceptive. The situation has been presented as if we were apart from of all the world processes, as if they have had nothing to do with us, and that our FSB is the best in the world and will protect us.
All this has just has crashed, it disappeared, and the level of FSB trust, which has been growing recently precisely because people were afraid of terrorism, will probably go down. But once again, this is just a suggestion."
euronews:
"What impact could today's explosion have on the people of Russia?"
Kolesnikov:
"In the current political circumstances the trust in government is very fragile. It is teetering on the edge of the Crimea euphoria. So I think that this trust and approval rating might go down slightly. Although it's not Putin's rating, he is protected, he is a symbol of Russia, not just a human being. But the government's rating might go down, since the government can secure its own safety, but not the people's safety."