Amateur video purports to show the moments after St Petersburg metro blast
Comments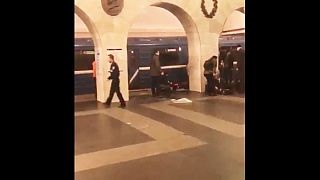 Amateur video purports to show the moments following an explosion which rocked Saint Petersburg's metro network on Monday, April 3.
Images seen in the second part of this video, allegedly filmed at the Technology Institute station in Russia's second largest city, show emergency services responding to an incident on the platform.
A Reuters witness also saw eight ambulances near the Sennaya Ploshchad metro station.
RIA Novosti agency has reported that there appeared to have been blasts at two metro stations.
The incident took place as Russian President Vladimir Putin visited Saint Petersburg in order to host talks with President of Belarus Aleksandr Lukashenko.