EU foreign ministers voice unity with Russia following St Petersburg metro blast
Comments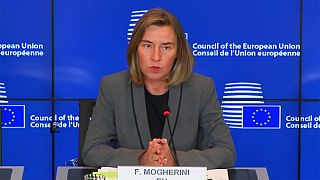 European foreign ministers meeting in Luxembourg reacted to Monday's metro blast in St Petersburg, expressing horror over the apparent terror attack.
The EU's foreign policy chief Federica Mogherini expressed Europe's condolences to Russia.
"Obviously our condolences go to all Russian people and in particular those who lost their loved ones and we continue to follow the news coming from St. Petersburg with a lot of apprehension," Mogherini said.
Describing the events in St Petersburg as an ''outrage'', Britain's foreign minister Boris Johnson also expressed solidarity and sympathy with the victims in St Petersburg.
"Obviously we don't yet know exactly what is behind this or who is responsible for this outrage, but clearly our thoughts are very much today with the families of the victims and with the people of St Petersburg just as a few days ago they were with the people of London," Johnson said.
France's foreign minister Jean-Marc Ayrault also voiced his unity with those caught up in the blast.
"First I would like to express all my solidarity for the victims and all my condolences to the Russian people. We do not know yet the causes, but we stand close to all those who suffer. That is why I want to express now my solidarity in the name of France."