Students in Hungary march against a bill threatening future of prestigious university
Comments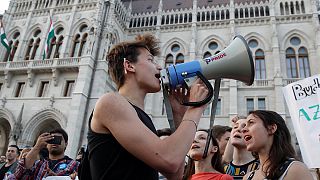 Thousands of Hungarian and foreign students are demanding the government withdraws legislation which could force a university founded by philanthropist George Soros out of the county.
Hungary's parliament is due to debate a bill which sets out new restrictions proposed by Prime Minister Viktor Orban who is a critic of liberal civil organisations funded by Soros.
Thousands Rally in Hungary in Support of Soros-founded University https://t.co/znmi9mQYJJpic.twitter.com/ZIuUOcBV1R

— The Voice of America (@VOANews) April 2, 2017
"I think there have been many bad things done by this government in the last seven years, but I haven't experienced one like this that has no rationality at all but pure primitive revenge," said one protester.
"I would like Hungary to have free education, where one cannot close down institutions with a post factum regulation."
The Soros's Central European University (CEU) awards diplomas recognised both in the US and Hungary for its doctoral courses in social sciences.
Under the bill, foreign universities must have a campus in Budapest and in their home country. The CEU, which only operates in the capital, is the only international college with no arm elsewhere. CEU has said the bill threatened academic freedom.
The US which has many students attending the university has described it as "premier academic institution" and urged the government not to compromise its independence.
Our reported Andrea Hajagos who is in Budapest said,
"The protesters marched in front of CEU's buildings, the rector of which has just traveled to Washington to brief legislators there about the situation."
https://t.co/TSnMJ7sux0 – US State Department calls on #Hungary gov't to back off Lex CEU

— The Budapest Beacon (@BudapestBeacon) March 31, 2017