Germany's Merkel hits local campaign trail
Comments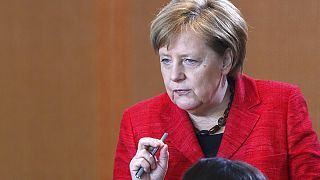 German Chancellor Angela Merkel has hit the campaign trail for what her CDU Party hopes will be its next regional win.
Fresh off the back of a victory in Saarland, she stepped out at a party conference in North Rhine-Westphalia, six weeks ahead of a local ballot there (May 14) and six months before the general election (September 24).
The leader focussed on the federal, rather than local vote. She directed her comments at her main challenger, SPD leader, Martin Schulz.
Merkel accused the SPD of being backward-looking and said they were still wrestling with job-market reforms dating back 13 or 14 years.
It comes a matter of days after a weekly poll suggested Schulz's Party had narrowed the gap with the chancellor's conservatives.
Both leaders are hoping September's vote will rid Germany of the current national CDU-SPD coalition.
Local vote
North Rhine-Westphalia is currently jointly-ruled by the SPD and Greens. Schulz's Social Democrats are forecast to win, but the future appears less bright for their partner, meaning the CDU could make gains in the region.