'The art of the selfie': UK gallery celebrates self-portraits through the ages
Comments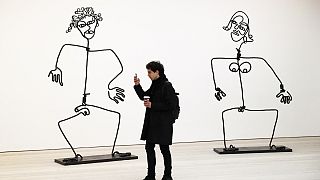 For hundreds of years we have been doing it – turning our own image into art.
And at London's Saatchi Gallery, what is hailed as the world's first exhibition exploring the history of the selfie "from the old masters to the present day", is making quite an impression.
"The selfie has become probably the most expansionist form of visual communication that we have experienced in generations and so, for that reason, whether you are running a cultural institution or not, you can't ignore it," the gallery's curator and CEO Nigel Hurst told Euronews.
"And what we are doing really is embracing that further part of the narrative in that, for centuries, we have shared images of ourselves – now we do that on a mass level."
The art of the selfie on display in London exhibition: https://t.co/qyL6b5Exkzpic.twitter.com/mhwAbJdo9s

— Reuters World (@ReutersWorld) 31 mars 2017
In the digital age, the selfie has become ubiquitous. The word was added to the Oxford English Dictionary in 2013.
Running until May 30, the exhibition "From Selfie to Self-Expression" includes selfies by football player David Beckham and reality TV star Kim Kardashian, and even the first selfie shot by an animal (a monkey).
Euronews correspondent Wolfgang Spindler says: "Doing selfies with your mobile doesn't mean you are narcissistic. Today, modern smartphone photography is socially acceptable. This exhibition shows the creative potential of the modern self-portrait."