Palestinians demand sanctions against Israel over new settlement
Comments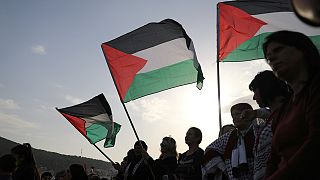 Palestinians demanded international sanctions against Israel on Friday over its approval of the first officially authorised new settlement in the occupied West Bank for over two decades.
The calls were made as annual 'Land Day' commemorations continued, over the killing of six Israeli Arabs by Israeli security forces in 1976, amid protests over the confiscation of land back then.
"This action means that Israel is turning its back to international law, turning its back to the Security Council of the United Nations and turning its back to the so-called efforts about a new peace process," said Palestinian politician Mustafa Barghouti.
"In my opinion, Israel will not be restrained unless boycott, divestment and sanctions are practised against it."
Israel blasted for approving Emek Shilo settlement https://t.co/taUHkiCCSZpic.twitter.com/s8DKfuSM0h

— Al Jazeera News (@AJENews) 31 mars 2017
Earmarked for a hilltop near the existing settlement of Shilo, the new site will house some 40 Jewish families evicted from Amona, a West Bank outpost dismantled in February because it was built on private Palestinian land.
Avichai Boaron, the head of the Amona Committee, welcomed the measure but said:
"The test will be…whether in fact houses are built and this decision takes shape or, God forbid, if it remains on paper only. We will be monitoring that this will indeed happen and that in the weeks to come all that needs to be done will be done."
Israel's government gave the green light despite talks with Washington on possibly curbing settlement activity.
United Nations Secretary-General Antonio Guterres is disappointed and alarmed by the Israeli move, his spokesman said.