Minister's apologies ease tension in French Guiana
Comments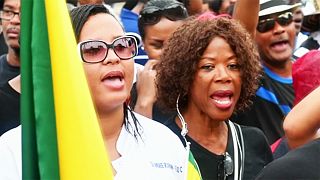 "Sorry seems to be the hardest word," the song goes.
But after almost two weeks of social unrest in France's overseas territory of French Guiana, a government minister has apologised – and it has made all the difference.
"It is my honour to present my apologies to the people of French Guiana," Ericka Bareigts, minister for France's overseas territories, told demonstrators on Thursday, acknowledging years of under-investment from Paris.
Her words were met with warm applause and immediately lowered tensions, providing a more constructive context for negotiations on demonstrators' demands.
France's failure to dispatch top officials, at first, fuelled anger over high crime and high unemployment.
But the arrival of Bareigts and French Interior Minister Matthias Fekl was the first step in efforts to restore calm.
"We feel like we are a colony," said one protester, who gave his name as Sergio.
"We are not allowed to talk or demonstrate. The money they are spending now, we need it for our roads, our health, that is what we need."
General strike paralyzes French Guiana, thrusting it into the spotlight of the French presidential campaign: https://t.co/CWWBWJTOmKpic.twitter.com/v7pRTeLS3n

— New York Times World (@nytimesworld) 28 mars 2017
A movement called 'The 500 Brothers' has led protests including a general strike in the French territory in South America. It comes less than a month before France holds presidential elections.