Mexico metro penis highlights sexual harassment
Comments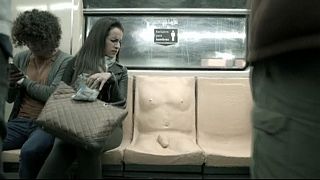 Commuters in Mexico City have been greeted with an unusual sight recently, as the UN and Mexico City's local government teamed up to combat sexual harassment with a novel idea.
They installed a special seat on one of the city's busy subway trains, moulded into the shape of a male torso and penis. A note explains: "It is uncomfortable to sit here, but that is nothing compared to the sexual violence that women suffer on their daily journeys".
A sign above the seat reads "men only", and in a video released by the UN both men and women are visibly anguished by the seat.
The UN Women group hopes the campaign will force a debate about sexual harassment, by showing men some of the challenges women face just trying to get to work.
Ana Guezmes, of UN Women Mexico, said the problem of sexual harassment in Mexico City is "really common".
"(If) society talked, responded, authorities intervened every time this happened we would generate a culture of zero tolerance", Guezmes added.
Teresa Inchaustegui, Director of the Women's Institute of Mexico City said this could be achieved by projects which "push… so that men are placed on the side of women's rights".
Alongside this video is another which involved the bottoms of male subway passengers being shown on screens- to highlight how women can feel harassed by the intrusive male gaze.
However, critics say these strategies rely on shock value, and do not do enough to target the societal root causes of violence against women in Mexico.
'Machismo' is often blamed for prevailing sexist attitudes in Mexico and other parts of Latin America, due to patriarchal gender roles.
According to a YouGov poll of 2014, Mexico City's subway system was ranked worst in the world for verbal and physical abuse towards women. Nine out of 10 women have been victims of sexual harassment during their commute through the Mexican capital.