Oil protester performs Haka outside conference
Comments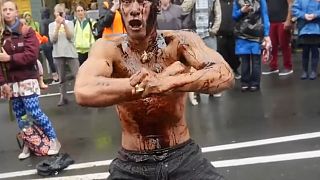 Greenpeace held a protest outside the New Zealand Petroleum Conference 2017, in New Plymouth.
Protesters caused delays by blockading the conference centre.
But some took a different approach to their direct action.
Two protesters covered themselves with what appears to be crude oil.
They then engage in a traditional Maori greeting, the Hongi, before one of the pair perform a version of the Maori Haka.