Guterres urges Syrian girls to continue their studies
Comments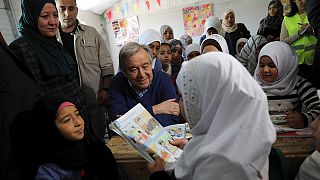 UN Secretary General António Guterres has urged young Syrian women to continue their studies so that they can reach government positions in the future.
The Portuguese visited the Zaatari refugee camp in Jordan, where eighty thousand Syrians are living.
He toured a number of projects, including one which aims to boost education among girls.
When we built ZaatariCamp</a> in 2012, we never could have imagined the suffering of Syrians would last so long.It's time to end this conflict. <a href="https://t.co/CdRF4xCdzl">pic.twitter.com/CdRF4xCdzl</a></p>&mdash; António Guterres (antonioguterres) March 28, 2017
He told them: "We need to have more women in government, in the municipalities, in the administration, in the companies.
"Insha'Allah (God willing) with peace in Syria, you will be able to be very useful for your country."
During a visit to ZaatariCamp</a>, <a href="https://twitter.com/antonioguterres">antonioguterres sits in on English lesson at UNICEFJordan</a> school. <a href="https://twitter.com/UnitedNationsJO">UnitedNationsJOpic.twitter.com/sxqVovc1zk

— UN Spokesperson (@UN_Spokesperson) March 28, 2017
Guterres appealed to all parties of the Syrian conflict for peace, saying it was not only a tragedy for the people but also a threat to the stability of the region and the world.
He will go on to the Summit of the League of Arab States at the Dead Sea.