Children among migrants found drowned off Turkish coast
Comments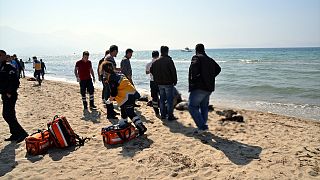 At least 11 people from Syria, including five children, are dead after their plastic boat sank off Turkey.
Some 22 migrants were on the boat, using a sea route where these kinds of drownings have largely been prevented in recent months.
Meanwhile, Spanish aid workers say they fear hundreds of migrants may have died off the coast of Libya.
Five bodies have been found near two capsized boats, while the search for a third vessel reported missing is still underway.
The large migrant dinghies normally carry some 120 people.