The Syrian Army says it has retaken Damascus areas seized by rebels
Comments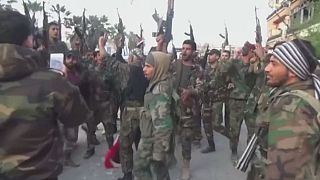 Syrian army soldiers have recaptured all the positions they had lost earlier in the week in a rebel assault in the north of the Jobar district of the capital, Damascus.
I am not expecting miracles, I am not expecting breakthroughs and I am not expecting a breakdown

UN envoy for Syria
Soldiers have been seen celebrating on the streets of Damascus, chanting "God, Syria and Bashar (Syrian President Bashar al-Assad)."
Hama
Syrian military sources say Russian aircraft have taken part in air strikes against insurgents to help repel a major attack on government-held areas near the city of Hama.
"Air strikes have now started and there is concentrated artillery firing against the armed groups and the headquarters of their leaders and supply lines, paving the way for the counter-attack," a military source told Reuters. "The Russians are, of course, participating in these raids."
Was this a fresh offensive?
The London-based Syrian Observatory for Human Rights says rebel groups, spearheaded by jihadist insurgents, launched the attack on Tuesday and have captured at least 11 towns and villages.
If confirmed, it would be the biggest attack by rebels in months.
President Bashar al-Assad still holds the military upper hand in the war but the rebel gains have shown the challenge facing the Syrian army and its allied militia as they fight n numerous fronts.
Peace talks
The fighting has underscored the bleak prospects for a fresh round of UN-brokered peace talks that are underway in Geneva.
The UN's Syria envoy says Russia, Iran and Turkey need to convene more Syrian ceasefire talks as soon as possible to bring the situation on the ground under control.
Staffan de Mistura is mediating political talks in Geneva. A separate series of talks in the Kazakh capital, Astana – organised by Russia, Iran and Turkey – are supposed to guarantee the ceasefire.
What has de Mistura said?
He has made a "strong suggestion" that "they do retake the situation in hand and hopefully there will be an Astana meeting as soon as possible in order to control the situation which, at the moment, is worrisome."
"I am not expecting miracles, I am not expecting breakthroughs and I am not expecting a breakdown," said de Mistura, adding he hoped to see "incremental steps".
The background
Syria's "cessation of hostilities" was shaky from the moment it took effect on December 30 last year.
Three rounds of talks in Astana have not managed to stem the fighting. This week, rebels launched their biggest offensive in months, attacking government-held areas around Damascus and near Hama city.
The ceasefire talks have made no ground so far. A first round of diplomatic talks in Geneva was procedural, producing only an agenda for the current round.
This will encompass four topics: a new constitution, fresh elections, reformed governance and the fight against terrorism.
What the Syrian government is saying
After meeting de Mistura, Syrian government negotiator Bashar al-Ja'afari branded all the opposition and their backers "terrorists" and said discussing the fight against terrorism would be his top priority for the talks.
What the opposition is saying
Opposition negotiator Nasr al-Hariri is vowing to keep pushing for a political transition in Syria. He says he wants a signal from Ja'afari that he is serious about discussing one.
"We are still committed to political transition with a very clear objective which is to respond to the needs of the Syrian people and to end their suffering. And the key to all of that is through political transition."