Farage: "The EU will not survive"
Comments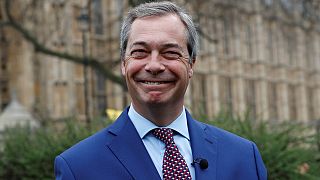 The former leader of the UK Independence Party (UKIP) says he could not be happier that the Brexit process has finally been triggered.
The European Union is not going to survive

Former UKIP leader
Nigel Farage told reporters the UK leaving with no agreed deal in two years would be fine, but has insisted that a free trade deal between the UK and the EU 27 "would be better".
Farage has vowed to leave the UK and live abroad if the country's Brexit – the break with Brussels – is a "disaster".
Speaking on his regular radio phone-in show in London, Farage said:
"If Brexit is a disaster, I will go and live abroad. I will go and live somewhere else."
"It isn't going to be a disaster"
"We have just managed to get ourselves a lifeboat off the Titanic"
The impossible dreamishappening. Todaywepassthe point of no return. #BrexitDaypic.twitter.com/pZMceYoZdG

— Nigel Farage(@Nigel_Farage) 29 mars 2017


#Brexitpic.twitter.com/HjA6Pmcorv

—

UKIP

(@UKIP) 29 mars 2017

What Farage said to the media
"There will be lots of arguments and debates over the next two years but we are leaving so I could not be happier, really."
"I will go for a pint to celebrate and think to myself that, after 25 years of slog, perhaps it was all worth it."
"No deal is fine for us, but a sensible, free trade deal is better for us, given that we are now their (the EU's) biggest export market in the world."
"The real disaster is the continuing migrant crisis and the fact that European countries now are being very unpleasant towards each other, the real disaster is that the European Union is not going to survive."