Taekwondo champion smashes 111 blocks with his head
Comments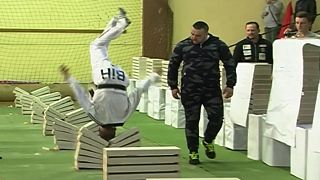 Kerim Ahmetspahic, a 16-year-old, taekwondo martial artist from Bosnia and Herzegovina, on Saturday (March 25) attempted the athletic, and rather painful-looking, task of smashing 111 building blocks using only his head.
The teenager flew through the 16 piles- each of which consisted six blocks- with ease, completing a headstand between each stack and using only the force from his head to split them in half.
A cheering crowd gathered in the Bosnian city of Visoko to witness the young champion polish off the challenge and erupted into cheers when he finished it in around 35 seconds.