Russian police detain anti-Kremlin activist Alexei Navalny
Comments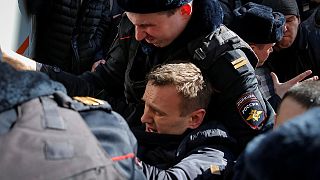 Russian police have detained opposition leader Alexei Navalny at a rally in central Moscow, a Reuters witness reports.
According to a reporter for the news agency, the activist was seen being bundled into a police truck in the capital's Tverskaya Street. Hundreds of demonstrators are said to have surrounded the van in an effort to prevent his arrest.
Protesters jeer riot police as they remove demonstrator for taping sign onto Pushkin statue. #Moscow@navalny anti-corruption rally. pic.twitter.com/JJXdLIW1uO

— Daniel Schearf (@DanielSSchearf) March 26, 2017
Protestors trying not to let police bus with @navalny inside. Trying to tip it. "Shame!" "Fascists!" pic.twitter.com/WockU3RRhN

— Alec Luhn (@ASLuhn) March 26, 2017
Navalny had called the protest to denounce corruption.
Кто-то перегородил машиной специально. Тут никто не боится pic.twitter.com/8FBFTXICrx

— Кира Ярмыш (@Kira_Yarmysh) March 26, 2017