Rome divided by rival EU rallies as bloc leaders call for unity
Comments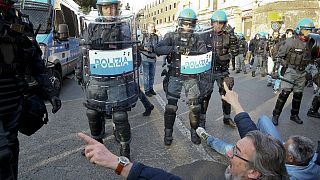 EU leaders may have pushed for unity on the anniversary of the birth of the bloc's foundation, but opinions were divided elsewhere in the Italian capital.
We have united for the better. Europe is our common future.
Rome Declaration on #FutureofEurope: https://t.co/aACtJKBPOC#EU60

— Donald Tusk (@eucopresident) March 25, 2017
Thousands of activists have marched to either support or denounce the Union.
At the Colosseum, in central Rome, two different pro-Europe rallies came together. One was organised by the European Federalist Movement
"I am only one among many Europeans who want to fight against populism and to send a message to those who govern us, to tell them that we need more from Europe, a more-integrated Europe," one man told euronews.
The other march, which called for a different Europe, was coordinated by various left-wing groups.
"I think this shows that the majority of Europeans believe in the European project but don't want the Europe that is being created now," another man added.
Anti-EU protesters included members of the left-wing social platform Eurostop. Their criticism was wide-ranging: no to Europe; no to the euro; and no to NATO.
"We are against Europe, because this is their vision of Europe," said one man, pointing to the visible police presence.
"Their Europe is the absence of democracy and it is done to starve people. It's a provocation against this rally which is coming democratically and peacefully to the square."
Dozens of riot police officers were deployed.
Five unelected presidents of EU, all white grey men, speak on 60th anniversary of Treaty of Rome. Doubt there will be a 70th

— Andrew Pierce (@toryboypierce) March 25, 2017