Rio starts vaccinating against yellow fever after the worst outbreak in decades
Comments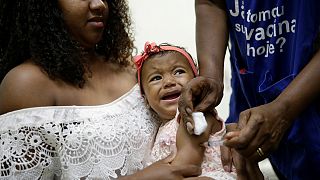 Authorities in the Brazilian city of Rio de Janeiro have started vaccinating against yellow fever amid the worst outbreak of the disease in decades.
Nearly 140 people have died from the virus in recent months.
Yellow fever is not new to Brazil, but its spread towards major population centres, where it is not normally found, has raised alarm.
Last week the WHO recommended those travelling to rural areas in the states of Rio and Sao Paulo get vaccinated.
"It's a question of security because you don't really know if yellow fever will arrive here in Rio or not and you can see that it has advanced in other places, so it's good to be already immunized against this, because if it arrives, there may not be enough vaccines for everyone," one woman getting vaccinated said.
"I think it is necessary. Life is already very hard and now we face the risk of getting infected. What can you do, with the crisis affecting hospitals," said another man.
More than 400 cases of yellow fever have been confirmed since the outbreak late last year. The surge comes just one year after the Zika virus – another mosquito-borne disease – was declared a world health emergency.