Trump approves Keystone XL pipeline
Comments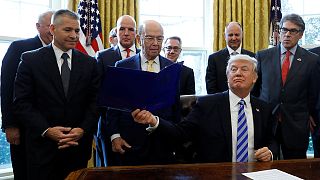 Ahead of his healthcare defeat in Congress, President Trump gave his permission on Friday for Canadian company TransCanada to complete construction of the Keystone XL pipeline.
The move overturns former president Barack Obama's decision to block the project.
The near 2000 kilometre pipeline will eventually carry tar sands oil from Canada to refineries on the US Gulf Coast in Texas.
But despite President Trump's latest permit, the Keystone XL pipeline project, which has faced years of stiff opposition from environmental activists and Native American groups, is far from a foregone conclusion.
Protesters have vowed legal challenges and TransCanada still needs to get approval for the pipeline's route through the state of Nebraska.
In addition, high extraction costs have seen interest from oil companies in tar sands wane recently, amid sluggish oil prices.