Kraft edges closer to world ski jump crown
Comments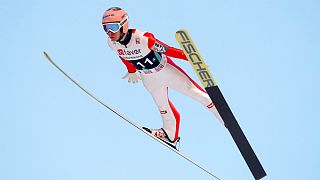 The world cup leader Stefan Kraft has all but taken the overall ski-jump title after a stunning performance in Slovenia.
The Austrian topped the podium with two leaps of 243 and 240.5 metres; he's now in pole position to lift the crown on Sunday during the last individual event of the season.
Second place went to Germany's Andreas Wellinger who had two equal jumps of 235 metres. His compatriot Markus Eisenbichier came third.
Poland's Kamil Stoch, Kraft's closest challenger, could only manage a fifth place finish.