Families remember the victims of Germanwings crash on second anniversary
Comments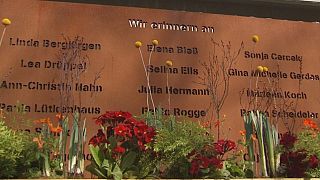 Families of Germanwings crash victims attend a memorial service in south-eastern France, to mark the second anniversary of the tragedy.
Relatives have criticised the father of the co-pilot for choosing the date to raise doubts over whether his son was responsible fro the crash which killed all 150 on board.
Guenter Lubitz, defended the timing, saying:
"We didn't choose today to hurt the other victims' families. We chose today because we think that today people will listen to us and hear that our son wasn't depressed at the time of the crash."
German prosecutors concluded that Andreas Lubitz deliberately crashed the jet, saying he was suffering from a mental disorder that led to suicidal thoughts but had concealed his illness from the airline.
Speaking to the media for the first time since the crash, Lubitz believes the investigation is incomplete, though the prosecutors say there is no reason to reopen the files, stating there is not sufficient evidence of any other cause.