London terrorist attack: What we know
Comments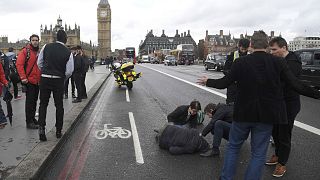 Police have released the identity of the attacker who, on Wednesday, killed four people in a terrorist attack on the Palace of Westminster in central London.
Khalid Masood, 52, from Dartford, Kent carried out the attack.
British police said Masood was British born and was known to police but was not the subject of any investigations nor surveillance.
Police additionally said on Friday a fourth victim Leslie Rhodes, 75, died in hospital from injuries sustained in the attack.
According to Scotland Yard's Acting Deputy Commissioner Mark Rowley, as many as 50 people were injured and one police officer died protecting the UK's parliament.
Masood was shot and killed outside parliament.
The Attack
At roughly 2:30 pm GMT on Wednesday March 22, police responded to a terrorist attack on the UK parliament building.
Masood, driving a Hyundai i40 4×4, sped along Westminster Bridge deliberately striking pedestrians.
Eyewitness accounts described seeing several injured members of the public strewn across the bridge before Masood crashed his car outside the parliament building.
Eyewitness to what happened on Westminster bridge pic.twitter.com/A115YBDS6N

— AssedBaig (@AssedBaig) March 22, 2017
Masood then exited the vehicle, avoided security at the Old Palace Yard and continued his attack.
Attempting to gain entry into parliament, Masood was confronted by PC Keith Palmer, 48.
Palmer had been a police officer for 15 years and was part of the Metropolitan Police's Parliamentary and Diplomatic Protection Command. He was also a husband and father.
Palmer was stabbed to death by Masood before being shot and killed outside parliament.
The Victims
PC Keith Palmer. Our brave Met #Police colleague who today made the ultimate sacrifice #LestWeForgetpic.twitter.com/i5L4dQSNuC

— Met Police Fed (@MPFed) March 22, 2017
Click to read more about this victim here.
The news of Palmer's death prompted an outpouring of support from politicians and tributes from those who knew him.
"He was someone who left for work today expecting to return home and the end of his shift and he had every right to expect that would happen," Rowley said in a statement.
British Prime Minister Theresa May said acts of terrorism are "doomed to failure." She added the "sick and depraved attack" will not stop Londoners from going about their business as normal.
London Mayor Sadiq Khan said Palmer was protecting "our city and the heart of our democracy from those who want to destroy our way of life."
PC Keith Palmer was killed doing his duty – protecting our city and our democracy from those who want to destroy our way of life. pic.twitter.com/p6igkEJoGY

— Sadiq Khan (@SadiqKhan) March 22, 2017
As the incident unfolded, parliamentary offices were locked down, MPs and staff prohibited from leaving their offices.
By 16:40 GMT those offices immediately opposite the Parliament building itself were being evacuated after authorities had conducted a search of the premises, a parliamentary source told euronews.
MPs and staff inside the Parliament building would not be released for several more hours.
Video filmed from within parliament offices shows the initial sense of panic caused by the attack and news that shots had been fired to killed the assailant.
On Thursday, March 23 police had revealed two other people had died of their injuries.
RIP Aysha Frade. She'd been crossing Westminster Bridge to collect her children from school#londonattackhttps://t.co/Gvwx2FaUSSpic.twitter.com/l5Kl8BsGrh

— Kay Burley (@KayBurley) March 23, 2017
The first to be identified was Aysha Frade, a 43-year-old British woman of Galician origins.
Frade was a mother of two who mostly lived in the UK but often visited her sisters and family in Spain.
She is thought to have died crossing Westminster Bridge while on her way to pick up her children from school.
Click to read more about this victim here .
"Our family is heartbroken" – tributes paid to American Kurt Cochran, named as third victim of Westminster attack https://t.co/00iuwGAqx9pic.twitter.com/wfBIvGtZ2j

—

BBC

Breaking News (@BBCBreaking) March 23, 2017
On Thursday evening police revealed the identity of the third attack victim as Kurt W. Cochran.
Cochran was US tourist celebrating his 25th wedding anniversary in London with his wife Melissa. They were due to return to the United States on Thursday.
To read more about this victim click here.
The identity of the fourth victim was revealed Friday morning, .
The Injured
London attacks: Some of those hurt have 'catastrophic' injuries, says hospital https://t.co/zrIJKltejHpic.twitter.com/k46lAIg7iY

— The Straits Times (@STcom) March 22, 2017
Scotland Yard said as many as 50 people were injured in the attack and 31 required treatment in hospital.
By Friday morning police said two people remain in critical condition, one with life-threatening injuries. Two police officers are also among the injured.
Dozens of French teenagers from Brittany from Brittany have flown back to France after being caught in the attack on Westminster. Three of their classmates, however, remain in hospital in London.
Students from Edge Hill University near to Liverpool were also injured in the attack according to a statement issued by the university.
The Investigation
"At this stage, it looks like there was only one attacker" say metpoliceuk</a> "You will see more police officers on the streets." <a href="https://t.co/ywJ6LMPbxC">https://t.co/ywJ6LMPbxC</a></p>&mdash; Catherine Hardy (fernojay) March 22, 2017
As of yet, Scotland Yard says it is conducting a full-scale investigation and that they believe only one person was involved in the attack.
The attacker's true motivations remain unknown, although British authorities said they suspect he may have been influenced by "international terrorism" and "Islamist-related terrorism."
Police said they arrested 10 people and searched as many 16 addresses since the attack unfolded Wednesday.
Scotland Yard indicated on Friday searches were on-going across several cities in the UK including Birmingham and London.
One person was released on bail.