Westminster attack witness: 'I saw six to seven people lying down'
Comments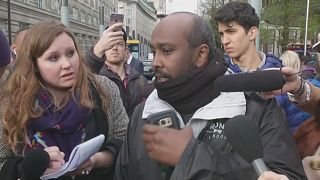 The terror attack on London's Westminster Bridge and the UK Parliament came in broad daylight, when many people were out and about in central London.
Ismail Hassan witnessed the car ploughing into the crowd on the bridge, saying it started out next to him at a traffic light.
"I saw the the light change to amber and the car started speeding up straight away – 30 miles an hour between here and the traffic light. You cannot drive at 30 miles an hour… then straightaway he went to the kiosk and there was people on the first bridge, and the second one on the middle bridge, there's a sign there, and the third one is by the yellow board, so there's a man laying down there."
Asked how many people he thought had been hit, Hassan went on:
"What I have seen with my own eyes is between six and seven people laying down. They were just walking as normal, and the first hit even, the second and the third time he was doing, no-one realised it. So as he's done it, in an out, zig zag – and it was quick, less than 10 seconds even," he said. "Just like we're standing here now and the car drives into us."
Two women also described what they witnessed.
"We were actually on the bridge. We heard gunshots, what we thought was gunshots, turned around and saw the car ploughed into a lady – I think it was a lady, well I'm not 100 percent sure – underneath the wheel, and could hear screams, and then we heard gunshots again and as we looked along the bridge, because we were only crawling along the bridge, there were bodies, literally."
She and the other woman said they estimated there were 10 to 12 "bodies" all along the bridge. It is not clear whether they thought the people had died, and perhaps that they were injured but lying motionless.
By early evening police had confirmed that four people had been killed overall during the attack, including the perpetrator, with around 20 injured.
Eyewitness Tawhid Tanim described what he saw near the Houses of Parliament.
"We started running, running, and I didn't know what was happening so I just got a little bit further and then I see that one car smashed to the wall and people started running all over. Literally, a few seconds after police (said) like: 'Move, move, you have to move, you have to move".